The highly anticipated official unveiling of the Maxi Music Studio is just around the corner. Set to take place on the 7th of August, 2023, this event promises to be a remarkable celebration of music and creativity.
Maxi Music Studio, known for its cutting-edge technology and innovation in the music industry, has been eagerly awaited by musicians, producers, and music enthusiasts alike. With state-of-the-art equipment and a commitment to delivering exceptional sound quality, the studio aims to revolutionize the music production landscape.
The unveiling ceremony will be a grand affair, featuring renowned artists, industry experts, and music professionals from around the world. The event will showcase the studio's impressive infrastructure, highlighting its world-class recording rooms, mixing consoles, and advanced production tools.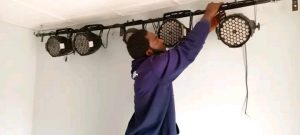 Attendees can expect an exclusive tour of the facility, allowing them to witness the studio's advanced acoustics and its ability to cater to various musical genres. Demonstrations and live performances will further showcase the studio's capabilities, giving attendees a taste of the unrivaled audio experience that awaits them.
Moreover, the event will provide an opportunity for networking and collaboration, fostering connections between artists, producers, and industry leaders. It will serve as a platform for the exchange of ideas, showcasing Maxi Music Studio as a hub for creativity and artistic growth.
The unveiling of Maxi Music Studio marks a significant milestone in the music industry, offering a space where musicians can bring their visions to life with unparalleled precision and sonic excellence. With its launch, the studio aspires to empower artists and to be at the forefront of groundbreaking music production.
So mark your calendars for the 7th of August, 2023, and prepare to witness the grand reveal of Maxi Music Studio—a testament to the fusion of technology and artistry. It's an event that will set new standards in the realm of music production and inspire musicians worldwide.
Kindly follow his page and share our contents